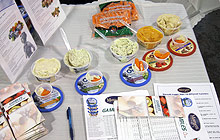 Established in 1954, the Ontario Food Terminal is the largest wholesale fruit and produce distribution centre in Canada, and the third largest in North America.
The Terminal acts as a 'cash & carry' outlet for the sourcing of fresh fruit and vegetables by wholesalers, catering to independent and chain supermarkets, retailers, restaurants, foodservice, caterers, farmers' markets, farm gate markets, convenience stores and institutions.
Gambles Supplier Demo Program reaches an audience of ~5,000 registered buyers, providing our vendor partners with an opportunity to engage their products with a broad customer base, spanning many market segments. Our promotion experts oversee all aspects of your demo, from sampling, to POP material & signage, and product bookings. We also provide analytics pre and post demo and collaborate closely with our buyers/suppliers, to ensure program success!
If you would like to find out more about our Supplier Demo Program, please contact Gambles Marketing Dept.