Gambles is committed to providing the highest quality produce storage, processing, and distribution services that meets or exceeds customer and regulatory requirements, while continually improving its organizational management system. We are committed to Food Safety and Quality and have been
HACCP
verified since 2010 and
S.Q.F
verified since 2018. We believe that ongoing investments in Quality and Food Safety programs, will not only benefit our company, but our customers as well.
At Gambles, we perform internal monthly audits in our facility to ensure that all targets and standards are being met. We are able to track our fruits and vegetables back to the individual suppliers and, in most cases, to the actual field lot. This is essential in the event of a recall to be able to identify the affected lot, contain it and minimize the impact to the industry, the customer, and the consumer.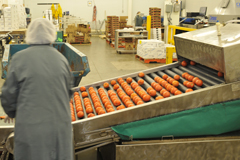 The annual review of our Food Quality and Safety programs allows us to make adjustments as necessary to continuously improve performance.
Gambles has an ongoing Supplier Approval Program to ensure suppliers meet our stringent Quality and Food Safe standards.
When suppliers and customers partner with Gambles, they are dealing with a leading-edge company that ensures the tests, controls and records are in place to guarantee the highest levels of food safety.