History
The original roots of Gambles date back to the turn of the century. The present-day company was formed in 2002 through a merger of two companies: Gambles Produce and the Ontario Produce Company. The following timeline grid takes you back in time to provide you with chronological details of how Gambles came to be!

1893

1893

George Youell opened the Pacific Fruit & Produce Co. in Tacoma, WA.

1930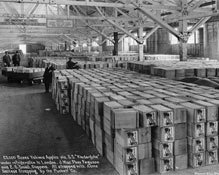 1930
Gamble Robinson (known for the Snoboy brand) becomes a subsidiary of the Pacific Fruit & Produce Co.
1940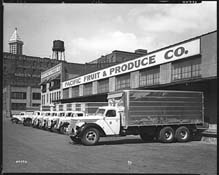 1940
1940 - Pacific Fruit & Produce Co. warehouse prior to merging with the Gamble-Robinson Co.
1942
1942
Official merger of both companies to create the Pacific Gamble Robinson Co. (PRG). Company grew to nearly 100 shipping, distributing and trucking locations throughout the United States and Canada.
1946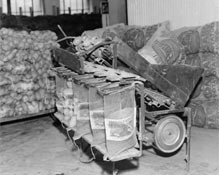 1946
Potato bagging machines used at the time
1960
1960
Millar Produce (originally founded in the North West during the late 1930's) started supplying dry groceries and produce to ship lines.
1962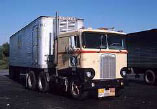 1962
Millar Produce purchased Seattle Restaurant Supply and entered the foodservice distribution business, servicing the greater Seattle area.
1973
1973
With an outside sales force of eight people, Miller Produce launched into the frozen foods segment.
1974
1974
Miller Produce was purchased by Seattle Stevedore Services of America.
1975
1975
Miller Produce purchased United Cascade, a company based in Tacoma, WA. It changed its name from Miller Produce to Miller Cascade. This purchase doubles the street sales force to 20 people.
1977
1977
The two companies merged into one new warehouse, having grown to approximately three times its original size.
1980
1980
Miller Cascade continued to expand its distribution area to all of Washington, Western Oregon, and additional areas of Alaska.
1982
1982
A new state-of-the-art facility was built in Kent, WA. With this new facility, the produce line was greatly expanded. Miller Cascade also opened a redistribution centre warehouse in Anchorage, Alaska.
1983
1983
Miller Cascade was named Distributor of the Year by the Institutional Distribution Magazine. Sales broke the $100M mark for the first time.
1986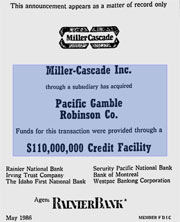 1986
Miller Cascade purchased Pacific Gamble Robinson. With this acquisition came the Snoboy brand of fresh produce, as well as all PRG shipping points throughout the United States and Canada.
1987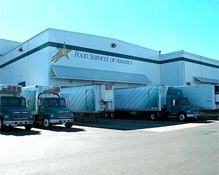 1987
Miller Cascade started selling off shipping and distribution warehouses in Canada and the eastern United States.
1989
1989
Gambles Produce was founded by Wayne Giles and Tom Hughes, acquiring operations in Toronto (located at The Ontario Food Terminal) and Bradford, ON from Food Services of America.
1994
1994
Gambles Produce sells Bradford packing plant to focus on wholesale expansion in Ontario.
1996
1996
Gambles Produce expands its fleet of trucks to offer direct-store-delivery program to retail and wholesale customers in Ontario.
1914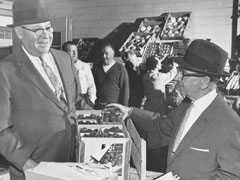 1914
Max and Maurice Wolfe opened the Ontario Produce company in Toronto, ON to supply army bases with fresh produce.
1949
1949
Max and Maurice Wolfe acquire Oshawa Wholesale.
1957
1957
Oshawa Wholesale Ltd. is founded, with the Ontario Produce company becoming one of its subsidiary companies.
1963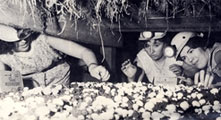 1963
Oshawa Wholesale Ltd. acquires Dominion Mushroom Farm. This operation was eventually sold in 1986.
1964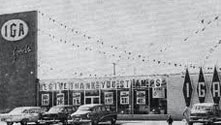 1964
Oshawa Wholesale Ltd. acquires IGA chain of stores.
1966
1966
Oshawa Wholesale Ltd. acquires Rite-Way Department store chain as well as the Bassin Food chain.
1967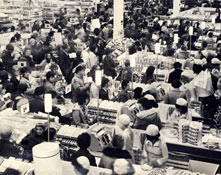 1967
Tower Department stores are acquired (Allied Towers Merchants Ltd.), with Oshawa Wholesale Ltd. ramping up their investment in Department stores.
1968
1968
Oshawa Wholesale acquires Kent Drugs and enters the pharmaceutical sector.
1971
1971
Name Oshawa Group Ltd. (OGL) is formed and becomes the parent company that controls all subsidiary companies.
1978
1978
Oshawa Group Ltd. sells 50% stake in Consumer Distributing company Ltd. This same year, sells 90% stake in Coinamatic Laundry Equipment.
1983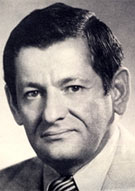 1983
Ray Wolfe, chairman and president of Oshawa Group Ltd., announces that total company sales increased 11.7 per cent to $2.12 billion. This despite lower profits from Towers Department stores.
1985
1985
Focused on retail expansion, OGL acquires Dominion Stores Ltd. operations in Nova Scotia and Safeway stores in southern Ontario.
1988
1988
Oshawa Group acquires Boots Drugs (previously owned by Loblaws) and renames pharmacy chain stores to Pharma Plus.
1990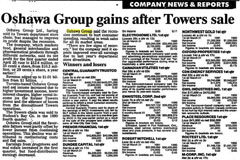 1990
Oshawa Group ceased operations of Tower stores with locations being sold to Zellers Canada.
1997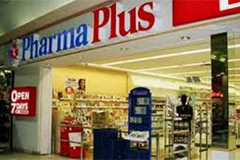 1997
Pharma Plus stores are sold to the Katz Group of Companies.
1998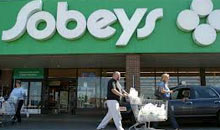 1998
Oshawa Group Ltd. is sold to Sobeys from Stellarton, Nova Scotia.
2001
2001
Sobeys sells their foodservice division (Serca Foodservices) and wholesale division (the Ontario Produce Company) to Sysco Corporation from Houston, Texas. Sysco creates a new division named Sysco Canada.
2002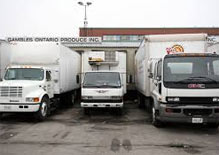 2002
Gambles Produce purchases The Ontario Produce company from Sysco Canada. Operations at the Ontario Food Terminal more than doubles with the formation of a new company, Gambles Ontario Produce Inc. (GOPI).
2006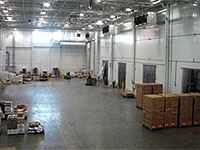 2006
To keep up with continued growth, GOPI builds a new state-of-the-art 65,000ft² distribution and storage warehouse in Etobicoke, ON. With this new facility, GOPI expands transportation presence in Ontario and begins servicing customers 24-7.
2008
2008
Gambles creates new Go Fresh brand, devoted to just-in-time precuts and packaged produce for the retail and foodservice sectors.
2009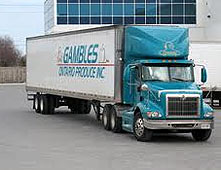 2009
Gambles fleet expands to 25 reefer trailers and 10 straight trucks, providing direct-store-deliveries to all Ontario markets.
2010
2010
GOPI expands customer base outside of Ontario and rebrands itself as just Gambles.
2011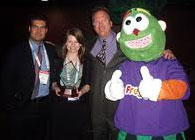 2011
Gambles is awarded The Produce News Fresh Health Award for promoting and sponsoring CPMA's Freggie Friday Children's Program in schools.
2013
2013
Gambles grows to 275 employees, servicing retail and foodservice customers throughout eastern Canada.
2015


2015
Total Produce PLC of Dublin, Ireland purchases a 50 percent share in Gambles Ontario Produce Inc.